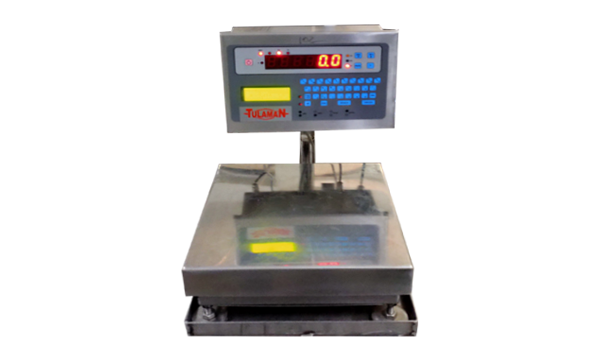 Check Weigher Scale
It is crucial for manufacturing and packaging companies to be compliant to weights and measures regulations and quality controls. A checkweigher is an invaluable part of the quality check process, for verifying the weight and completeness of the product, whilst being resilient to harsh manufacturing plant conditions. Given the varying practices and requirements of different
Our smart Checkweigher ensures is developed to fulfil the following five tenets.
Maintaining compliance with local weighing regulations
Making sure that underfilled packages are not reaching the market and being sold.
Helping with reducing product wastage caused by over-filled packages and maintaining quality control.
Guaranteeing that only complete packages are in sales circulation.
Provide valuable production data and feedback to optimize and improve the production process.
Why choose our checkweigher?
Precision weighing of the highest accuracy
Smooth product handling
Easy integration with software to gain sophisticated data management
Applications
Meat, poultry, and seafood
Ready meal packages
Baby food production
Pharmaceuticals
Cosmetics
Personal care products
What does our checkweigher give you?
Our checkweigher was engineered for the strict hygienic requirements and flexibility requirements of all dynamic packaged food products. Our checkweighers wide range of configuration options, nearly all food packaging requirements can be met.
High-resolution weigh cell technology, combining with the maximum throughput.
Optimized standard configurations for versatile applications
Can be easily integrated with a metal detector, to further enhance the Quality check procedure.
The upper frame construction allows simple mounting of the additional modules
The width of the conveyor belt is easily configurable, as per the requirements of the user
Transport height can be varied using the adjustable feet.
Complementary products and solutions
As part of our checkweigher solutions, we offer a wide range of high-speed rejector systems for reliable and efficient removal of products which do not meet the criteria for the weight variance. We offer a wide range of rejector systems such as;
Pushers
Blowers
Swivel arms
Multi-segment separators
Our Data Management solutions allow for complete Industry 4.0 Integration, to give you the right data on your fingertips. Digitization and real-time data collection are the key tenets of ensuring the highest levels of regulatory compliance, accountability, and governance. Our data management system is a PC-based software, which monitors and manages all the data collected from the product inspection systems, fully documenting the suspected contamination incidents, individual product weights, set-ups, inspection routines. This enables your team to;
Fundamentally enhance the quality processes
Ensure that the requirements of GFSI-Approved bodies are being met
Retailer audits go smoother.
Enable faster and targeted solution to contamination incidents and take corrective actions.
Automation of data collection and log all alarms, warnings, activities.
Significantly improve production efficiencies
Track and evaluate production data to maintain and improve OEE (Overall Equipment Effectiveness).
Provides and unparalleled volume of historical big data.